This Design case study started as part of the hiring process for the Senior Product Designer position at Noon online marketplace, I was given this task after successfully passing the initial screening process and a mobile interview with HR representative, Aya Ali, who sent me the task via email.
Noon Task Brief - Design case study
A new online marketplace wants to build an app that can deliver any item (Grocery, Electronics, Accessories) within just 20-30 minutes once the user places the order.
Design an app checkout experience with the above feature(s)

Conduct a research which validates your decisions

Benchmark

visual inspirations

and great visual aesthetics
A

component driven design system

(Optional, but good to have)

A prototype to demonstrate the process flow
Analyzing the brief & requirements
Idea: Online marketplace deliver orders within 30min.
Scope: Research to Prototype.
Device: Mobile App.
Grocery app design - Project High Goals
Let's Understand the Business first
Understanding Business is the best way to build a product business understanding is crucial for a UI/UX Designer working on an online marketplace app that promises to deliver any item within 20-30 minutes. Understanding the business objectives and target audience helps a UI/UX Designer to create a grocery app design based on user-centered design that supports the business goals and delivers a competitive edge. This can lead to the creation of an efficient design that streamlines the app's operations, reduces errors, and increases productivity, ultimately enhancing customer satisfaction.
Understanding Business Process
Fist step to understand Business is to listen well for the stakeholders and the business owners because he is the most on on the table understood the needs
Start your own business and market research as you are the owner and try to do your best to get closer to the user problems and user needs as much as you can, and in this type of task it's all about secondary research especially if it's a generic field like E-commerce ~ Never reinvent the wheel!, and here are the top resources I used to understand the problem:

the app discovery process,Where I search for the top competitors mentioned by stakeholders and group them together. I then analyze each app to identify common and unique features.

 
Grocery App Business Strategy board summary
The business strategy board helps UI/UX designers understand the company's goals, target audience, and market trends, enabling them to create user experiences that align with the company's objectives. By prioritizing features and functionality, designers can make informed design decisions that impact the company's success.
Today's busy modern life customers doesn't have time for shopping.
Variation of product is untrusted as the offline experience force users to visit many supermarkets for getting all their.
User stroll heavy weight grocery carts and stand in a long line for the billing process.
Shoppers always get upset when finding their needed products are all sold-out at the store.
Many customer have a problem of buying all their needs one time as the cash is run out of them.
Local market delivery isn't accurate on the delivery time.
Convenient experience and customer time saving.
Free groceries shopping anywhere and any place.
Checkout completed easily with just a few clicks.
Enhance your customers' pleasant and smooth grocery shopping experience with book that product in advance or set notifications up when it comes back in stock.
Enhance the recurring order items by a scheduled Orders plan.
Secure Payments Options with deals of instalment third party.
Browse on Your Time get order on the deticted time
stay-at-home mum.
single-man
Working family member have no time for shopping
the elderly people who can't go market or carry bags
Conversion rate
Customer lifetime value
Customer Engagement
Customer Retention
Direct and indirect competitors Apps general discovery
General discovery spotlight
Following a comprehensive analysis of other similar apps, I began listing the common features shared across all the competitors. This helped me to validate the existing features in our app and identify any missing major features. In such cases, I would consult with the product manager or business owner to understand the business case for not including the feature. This process of listing the top common features across all apps in the market helped us to select the appropriate features and streamline our product flow.
User Profiles
Quick Shopping List
Co-creating and Sharing Options
Advanced Search
Multi Payment Options
Price comparison
QR Scan for fast search
Shipping options
Order summary
Returns and checking the return status
Checking the shipping status
Flash sales and discounts
Barcode scanning
AI Voice Assistant
Smart Suggestions
Recommended Products
Chat Support
Easy login & registration
Easy login & registration
Easy login & registration
Product gallery
Shopping cart
Checking item availability in specific locations
Item availability reminder
Personalized product recommendations & item feeds
Membership options
Loyalty programs
Coupon codes
Allow reviews of your app
During this phase, my approach is to revisit the apps we previously listed, but this time I conduct a thorough analysis of our direct competitors. This involves examining both the user experience and user interface of each app that falls under the umbrella of direct competitors, who target the same segment as us, whether it's in Egypt, the MENA region, or globally, like:
In Egypt:
MENA Region:
NowNow

is your all-in-one delivery app that delivers everyday-essentials to your doorstep within minutes. From grocery shopping to pharmacy delivery.
World Wide:
Beelivery

Groceries to your door in as little as 15 minutes.

Grocemania

Order from any local grocery shop get order in minutes! 

Gorillas

Groceries at retail prices, delivered in 10 minutes.
Weezy local UK groceries to your doorstep in a jiffy.
Gopuff Daily essentials delivered in minutes.
Getir From snacks to beverages to your door in minutes.

Zapp

your favorite drinks, snacks and grocery essentials in 20 mins.
During my analysis of the competitors' in-app details, I take a thorough approach by installing each app and placing real orders (if the app supports my country), capturing screenshots throughout the entire process for detailed study. I then analyze each competitor from three key perspectives: Design, User Experience, and Checkout Flow. This allows me to identify what makes their design exceptional, what enhances the overall user experience, and how the flow of the checkout process is optimized, starting from the product addition stage at a high level.
What's Great about design.
Simple & Clear
Product is the main
Consistency of brand color usage
What's great about experience
Customizing experince by selcting Now or tomorrow from beginig.
Product Details and description listing
Order repeating experince
Checkout experience flow (starting from adding product – very high level)
What's Great about design.
Animation and characters usage
Terminology and personal spech
Products categorization style
What's great about experience
Credit card on door!.
User always aware about the dlivery time.
Support is superly accesable and the one click checkout experince
Checkout experience flow (starting from adding product – very high level)
Time to build our own Grocery Mobile APP
After this research about what's our competitors do it's time to collect all together then start building and building here not just a design it's a wide range of deliverables including:
User Persona ~ for whome we are building this high level view
After studying competitors features and our users needs which gathered from secondary research and customer discovery let's sort the main features
Login
signup
User profile
Setting location
Orders History
Change Language
Co-creating and Sharing Options
Product gallery
Detailed product descriptions
Recommended Products
Product scores and reviews
Price comparison
Product filtering and sorting
QR Scan for fast search
AI Voice Assistant
Product Alternatives
Item availability reminder
Repeat order
Add product to cart
Quick Shopping List
Shopping cart
Shipping options
Order summary
Membership options
Multi Payment Options
Loyalty programs
Flash sales and discounts
Coupon codes
Order as a gift
Order Summary
Clear Order tracking
Cancel order
Add to order
Contact Delivery
Contact Support
The story behind each feature
Using user stories is a beneficial approach as it allows all team members to understand the situation and user perspective. While it's typically a task for the product manager, as a product designer, I enjoy being involved in the process from the outset.
Item availability reminder
As a user i want to be notifed when the product i'm searching for isn't avilabel or preorder it.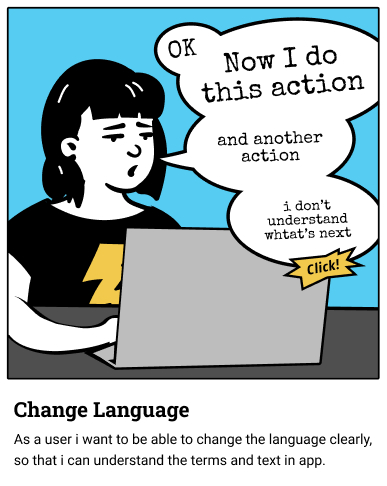 Item availability reminder
As a user i want to be notifed when the product i'm searching for isn't avilabel or preorder it.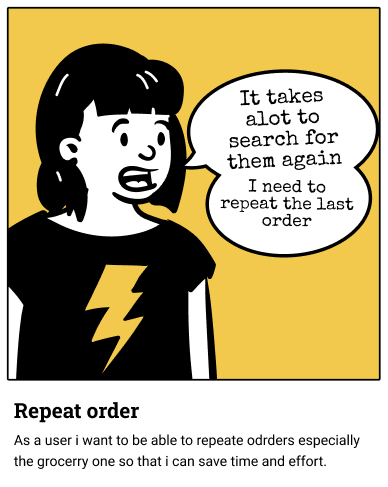 Repeat order
As a user i want to be able to repeate odrders especially the grocerry one so that i can save time and effort.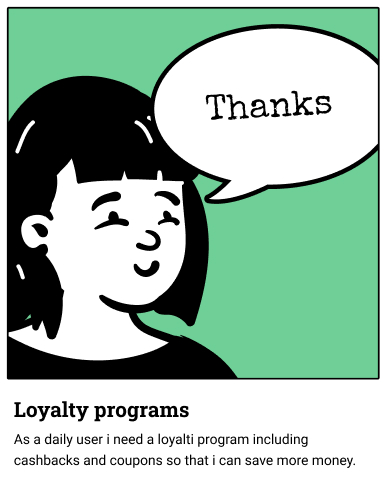 Loyalty programs
As a daily user i need a loyalti program including cashbacks and coupons so that i can save more money.
This Stories is briefly a preview for the full User Story Backlog check this notion file
App direct main user story and scenarios (Just a sample for scenarios is represented)
Main User Story:
As a user i want to able to buy all my need especially the groceries and fresh
products as fast as i can.
Scenario 1: After signup user will check the available products search for what i need and checkout.
Scenario 2: Open app and repeat my last order with adding some customizations on the order it self
and select a diffrent location for delivery.
Simple preview for the user flow digram for the grocery app user flows
To expedite the process, I shared the main user flow for ideal scenarios. However, it's essential to create and evaluate the flow for alternate scenarios with the Tech/Business team before moving forward with the sketching and design phase.
Upon completing the research phase, my responsibilities in this task extend from the branding phase to the prototype phase. Therefore, I need to:
For the design phase I will pick some slides from the bechance presentation afterwards will list the UI Mobile screens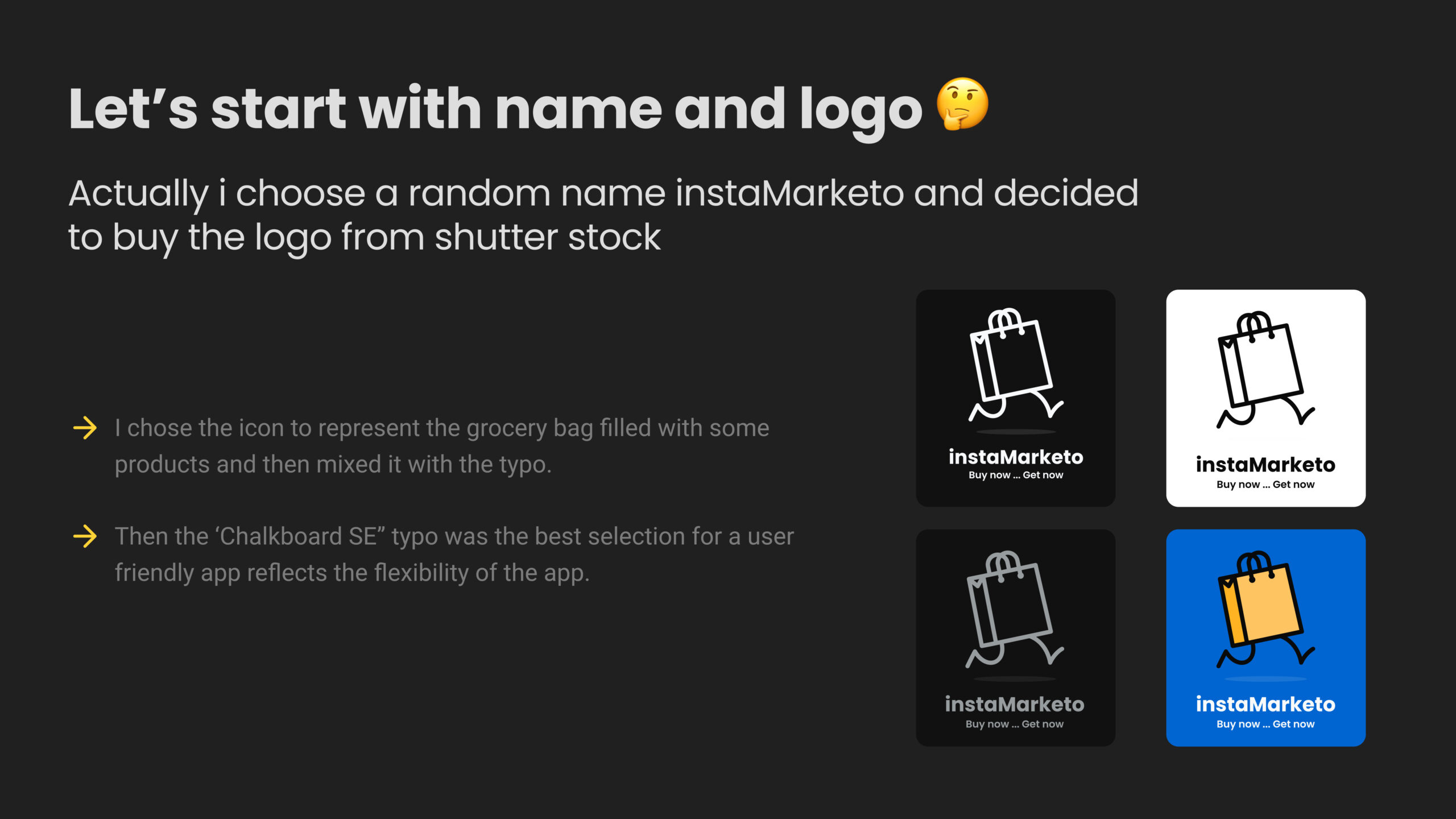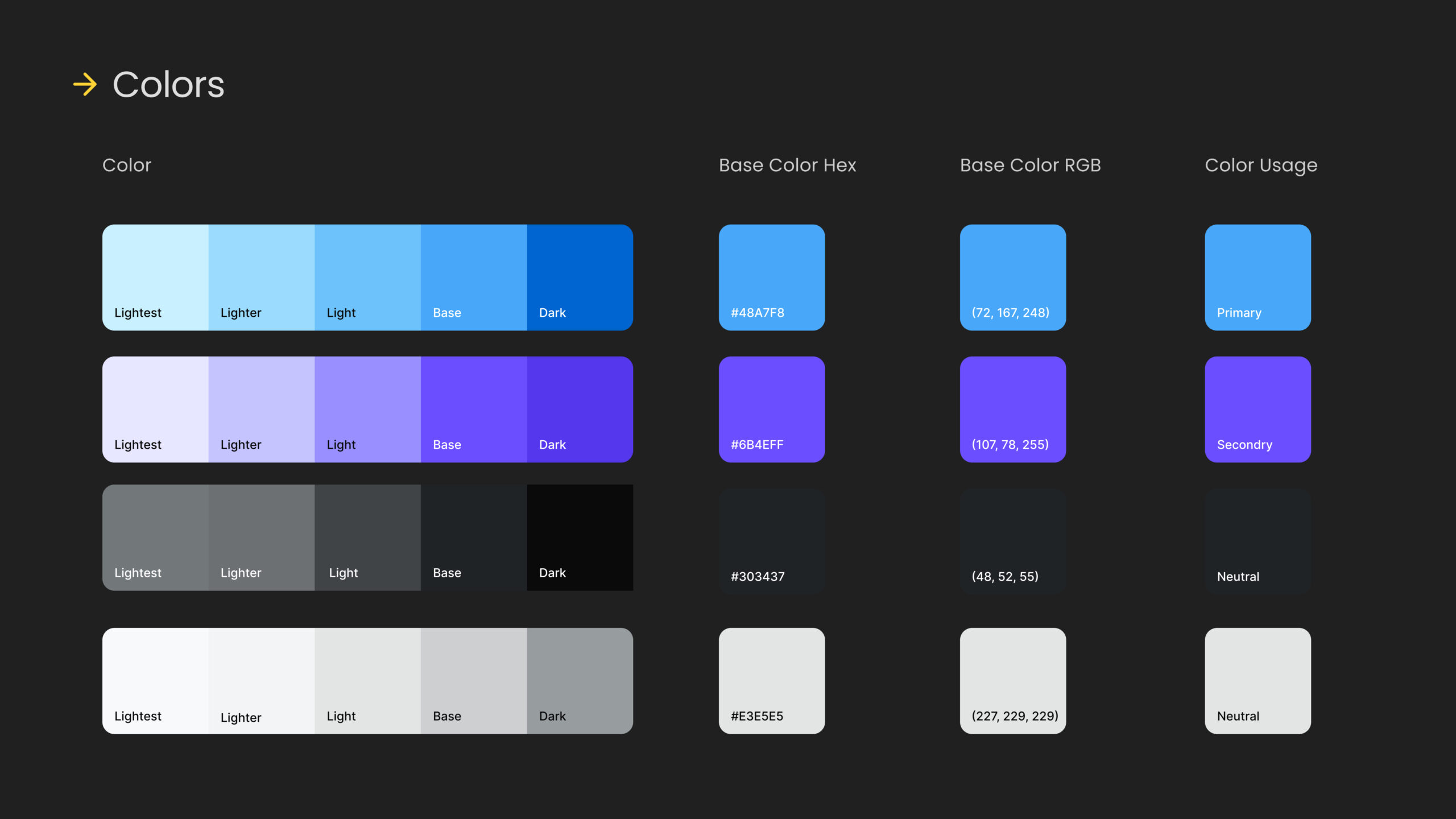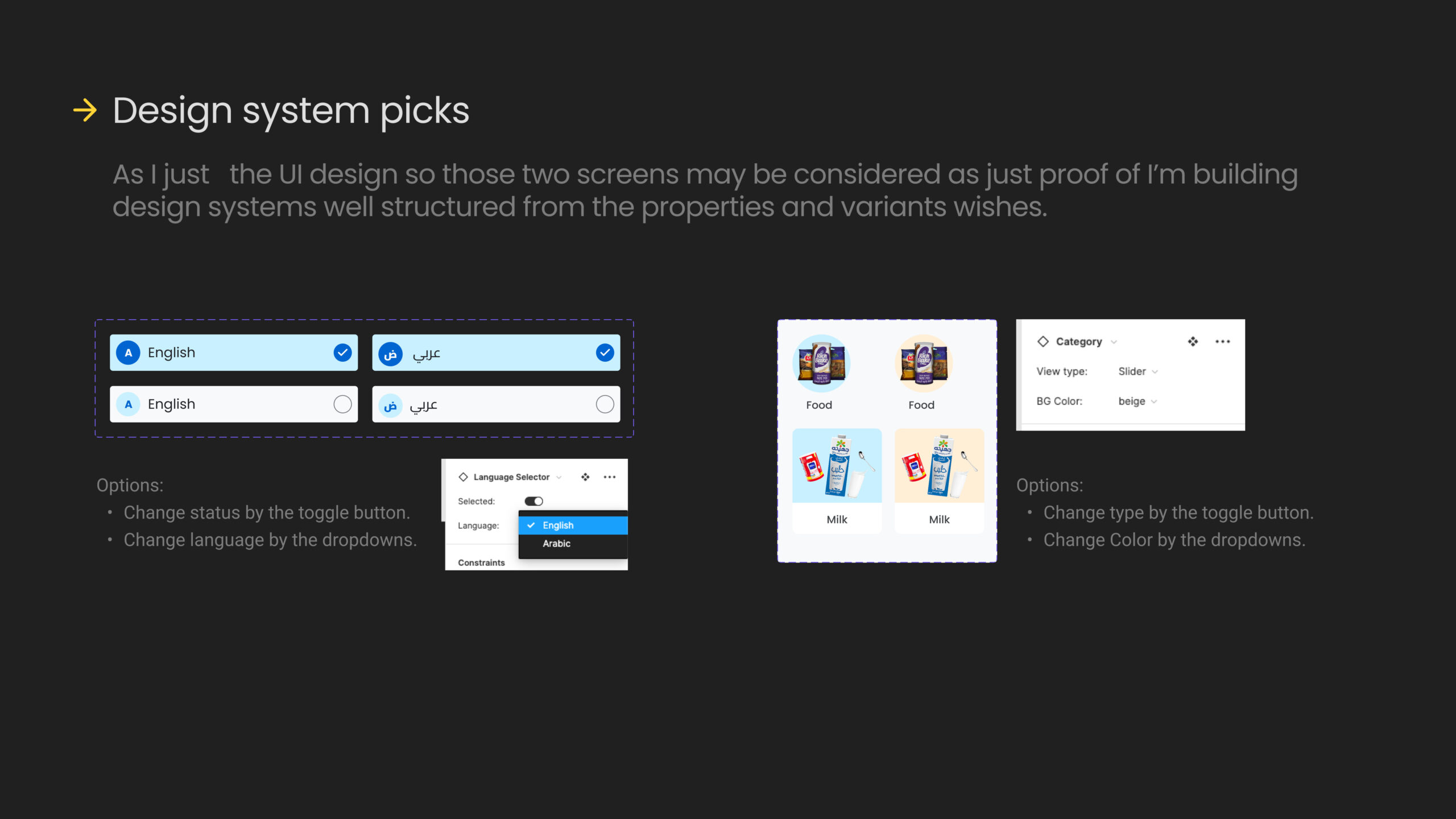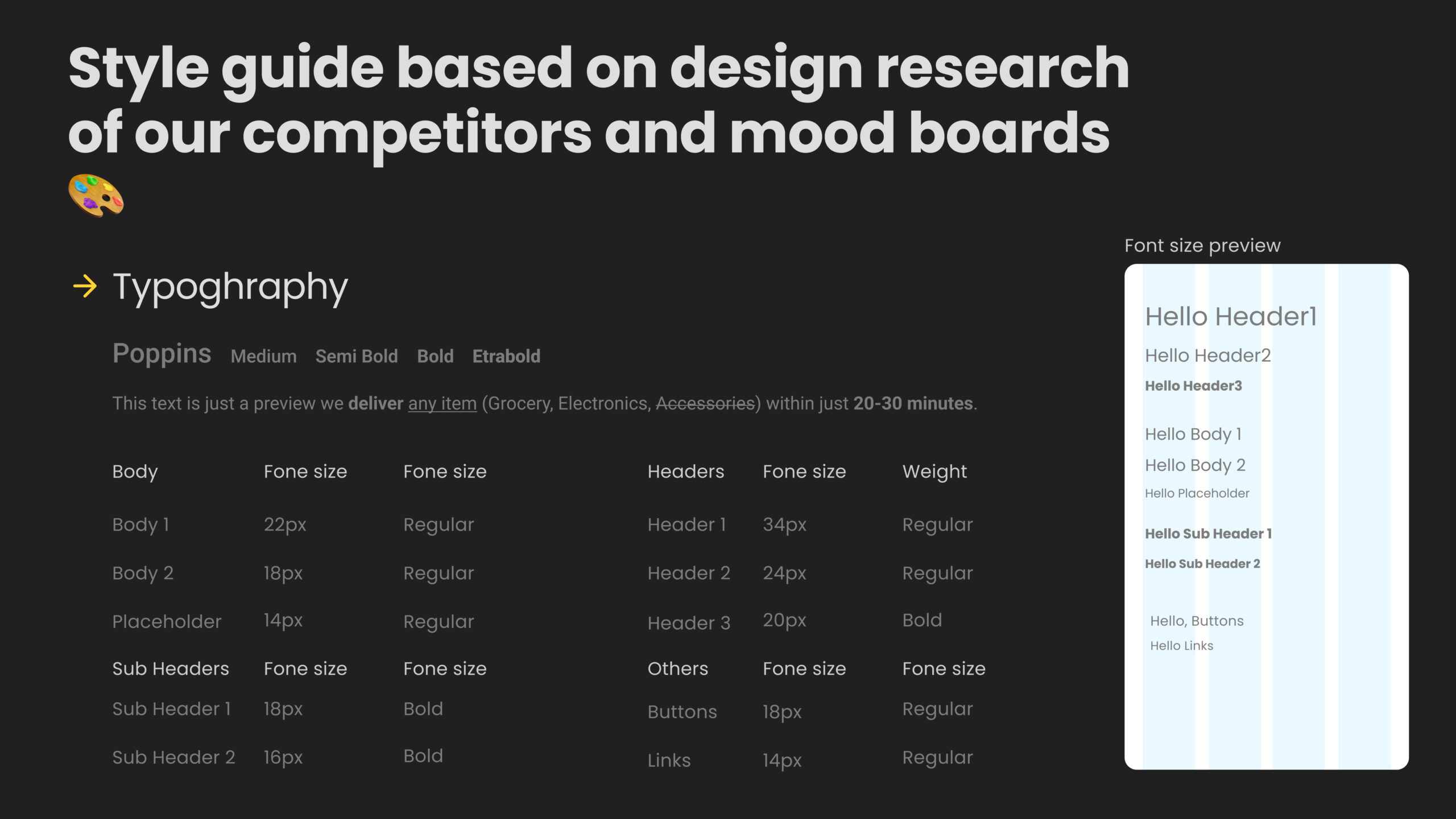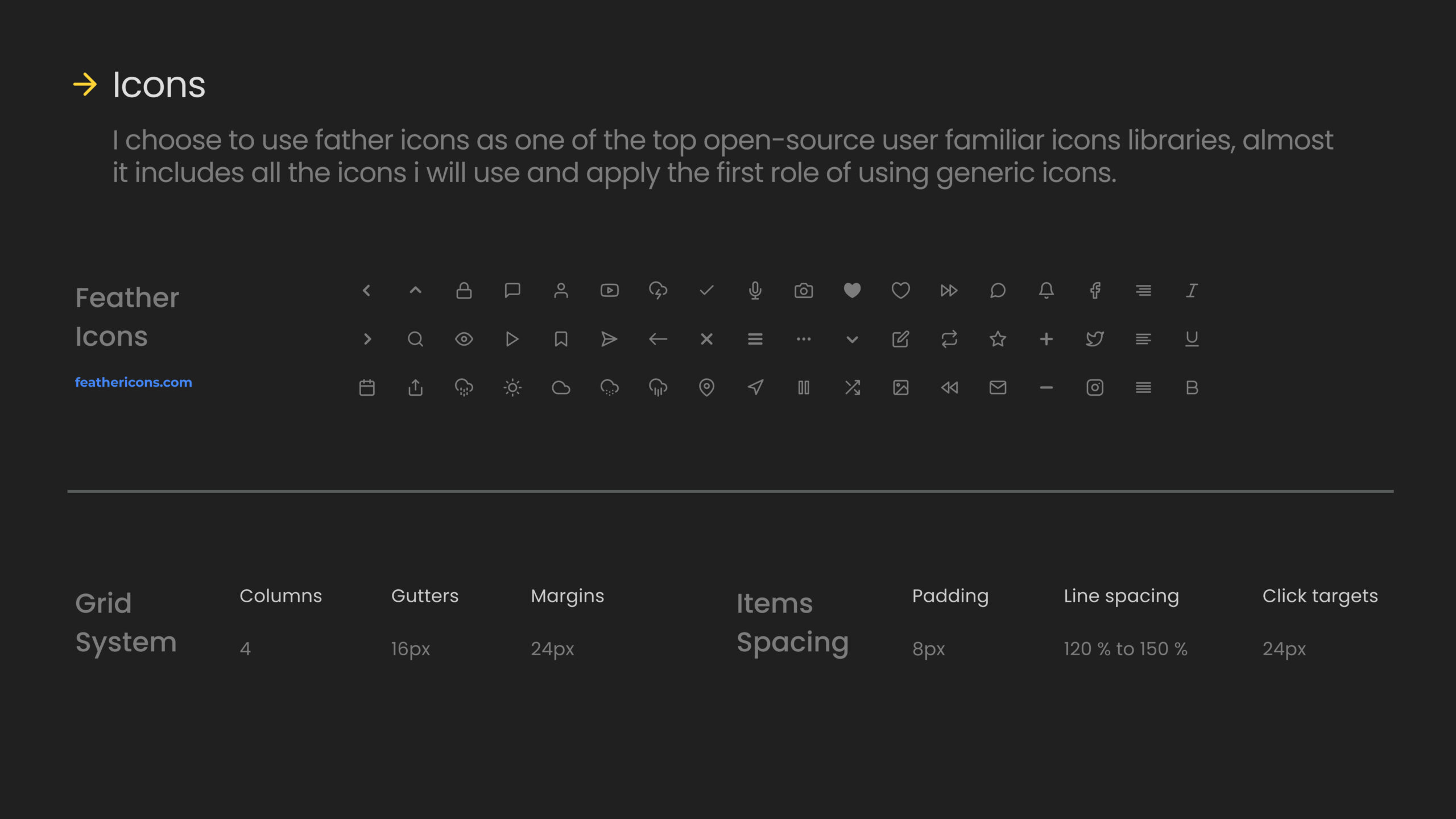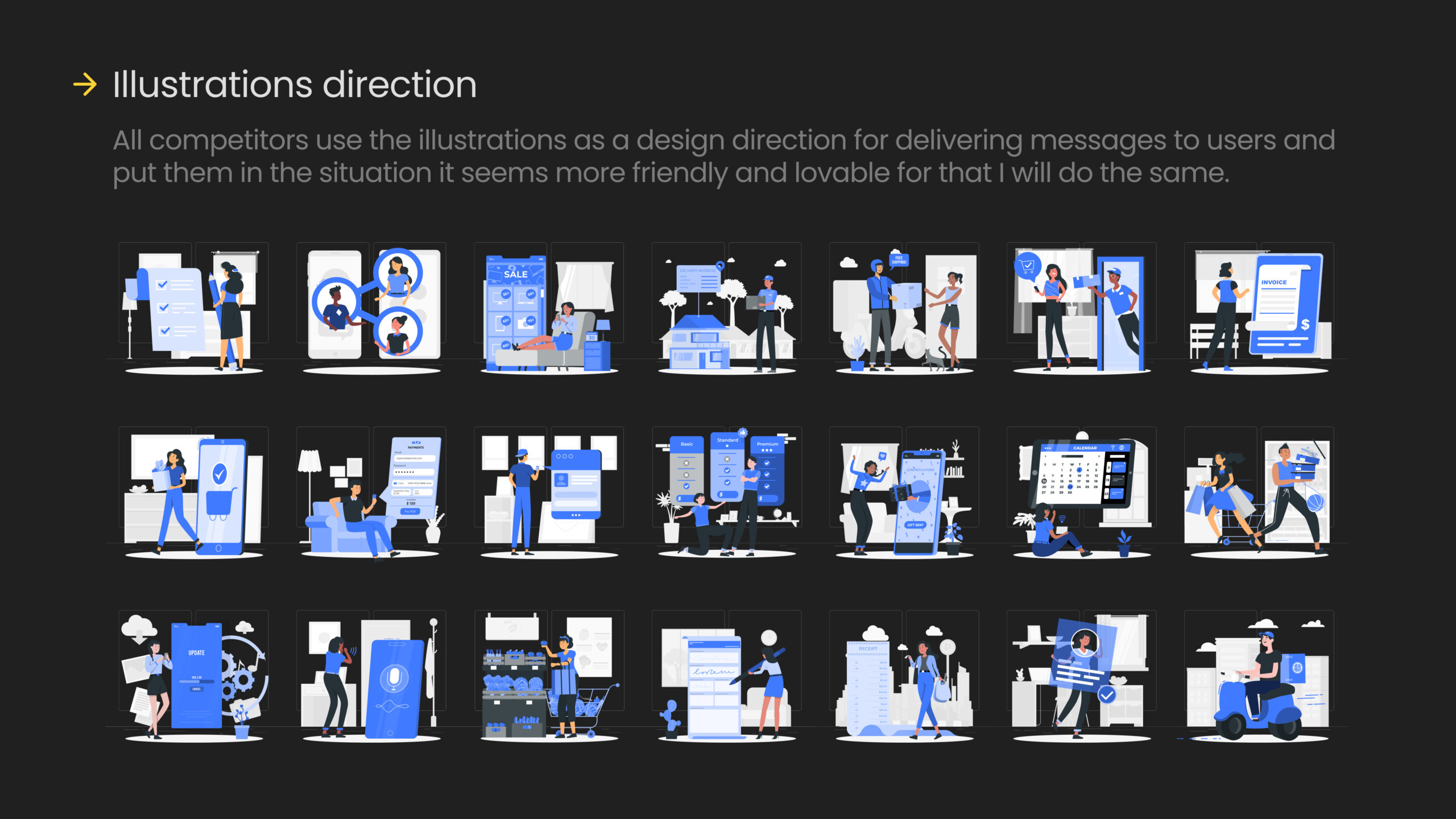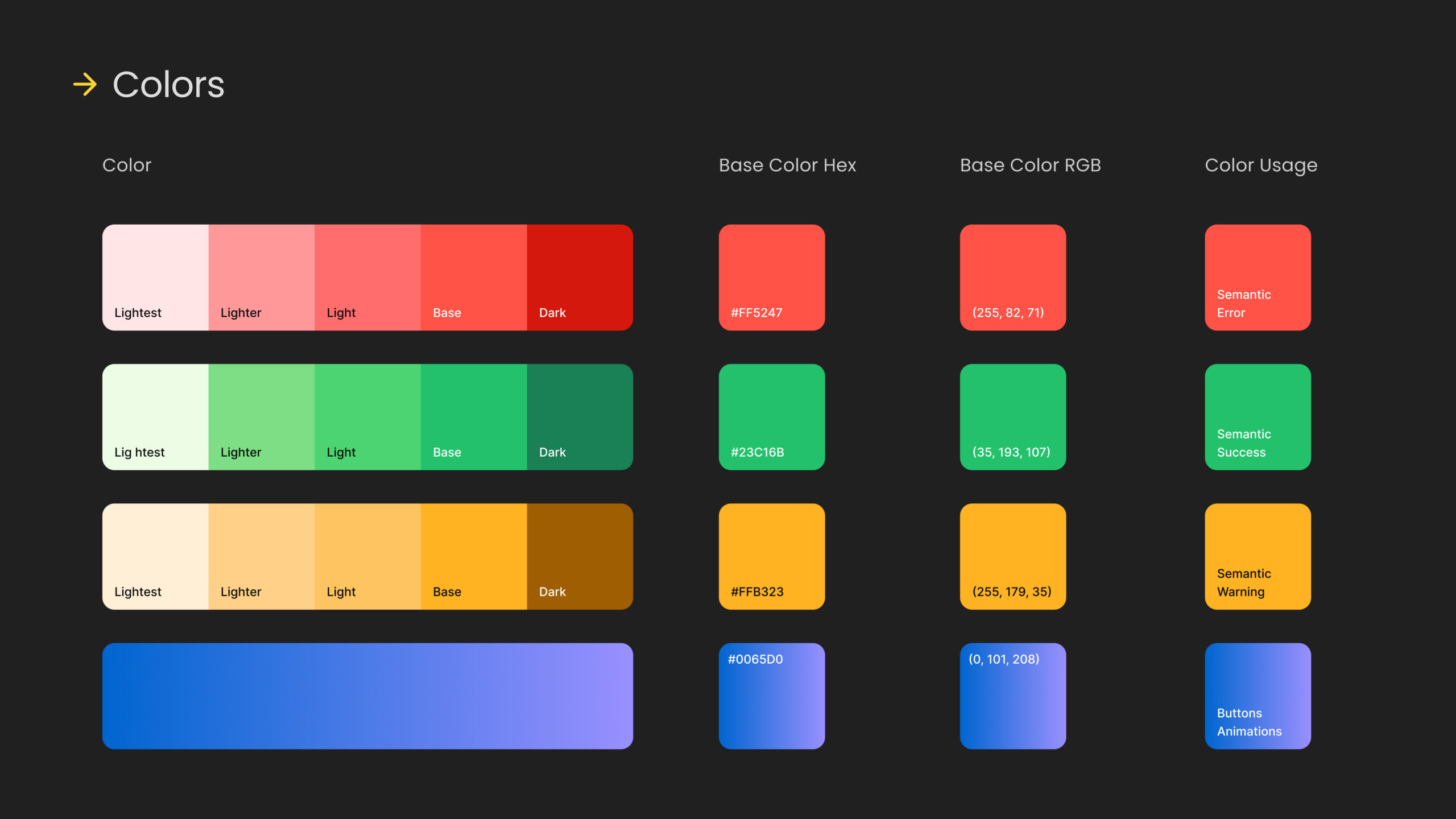 Below you'll find the complete UI design screens for the grocery app flow, covering everything from creating an account to rating products, including purchasing, adding to cart, tracking orders, and reviewing orders.
Hey there! I wanted to share with you what I have been working on in this design case study, and I would love to hear your thoughts and feedback on what we did well and what we could improve on for next time. What suggestions do you have?